October 2019

TEACHING PHILOSOPHY
Download: Teaching Philosophy and Statement of Diversity
Download: Portfolio of Student Work
Download: Sample Syllabi

......................................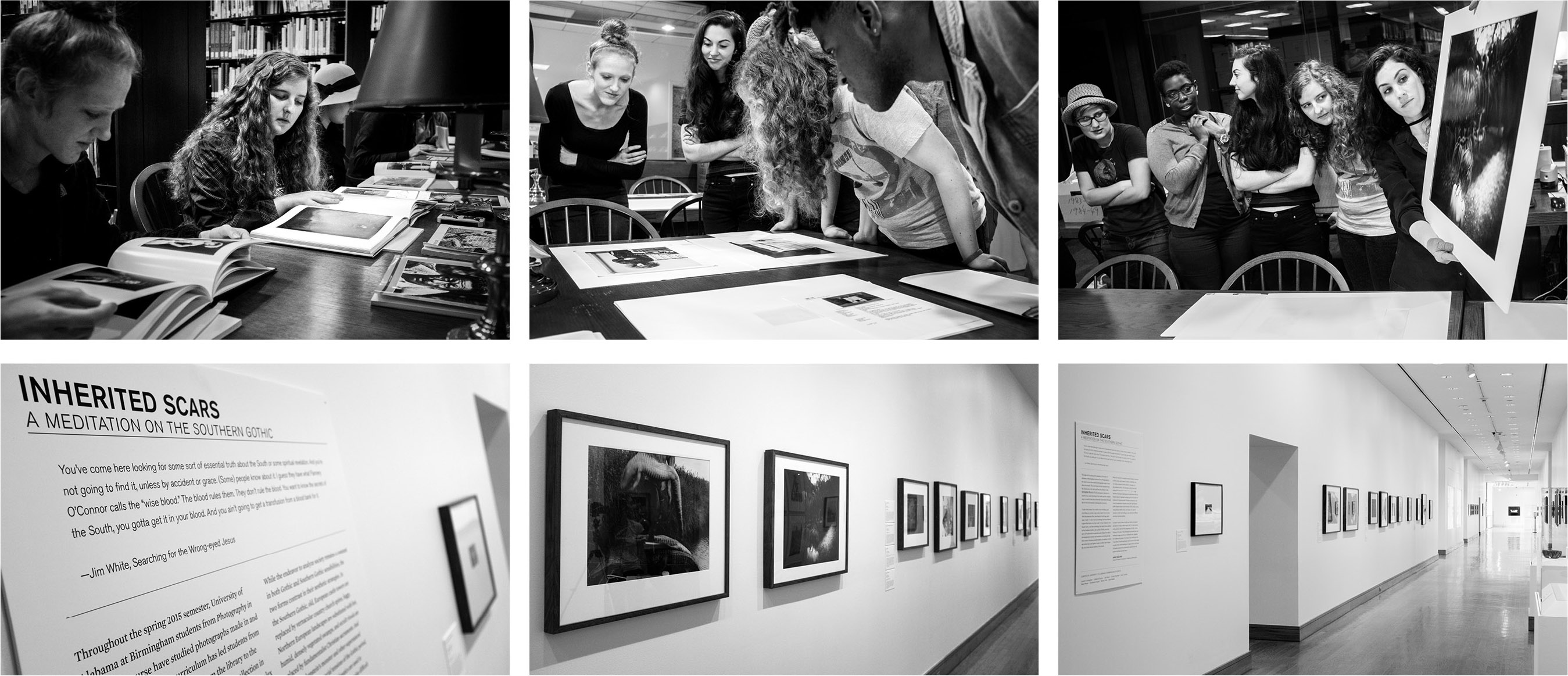 Documentation of the University of Alabama at Birmingham ARS 495 "Photography in the South" class curated exhibition, "Inherited Scars: A Meditation on the Southern Gothic," Birmingham Museum of Art, April 2 – August 9, 2015.
TEACHING PHILOSOPHY
Photography is in the midst of an uncertain, yet exciting, present. Through the shaping of fabricated and found images, deconstructing hierarchies between canonical and vernacular photographs, and engaging with traditional and emergent technologies, contemporary practitioners are employing a wide range of strategies to critically engage with the dilating character of globalized visual culture and examine assumed values in historical photographic discourse. My pedagogical approach enables students to consider the intellectual, aesthetic, and practical implications of this pivotal moment through a dynamic curriculum that actively addresses these issues and connects them to the broader cultural and political conditions shaping our time.

In my classroom, students are challenged to master the craft of image making, approach the reading and understanding of pictures with proper historical and contextual knowledge, and understand the power of photographs to document, reveal, criticize and provoke change. By establishing a firm foundation in current and historical methodologies and teaching within an inclusive, equitable, and diverse environment where students have access to safe, clean facilities outfitted with up-to-date, professional equipment, I provide a platform from which students learn to take risks, develop their voice, and redefine the photographic medium in their own way.

While I encourage my students to pursue the act of making as a way of thinking, I believe that artistic development does not solely occur as a result of making itself. To reach beyond traditional studio classroom models, I regularly incorporate experiential and service learning coursework through single and long-term creative assignments. This immersive fieldwork and community-based research motivates students to consider their role as thoughtfully engaged citizens as they develop partnerships outside the classroom that yield multi-dimensional, mutually beneficial outcomes based on shared vision and tangible benefits. By acknowledging specific student and community needs, fostering student-community collaboration, and promoting application of theory to "real world" practice, experiential and service learning strategies provide learning outcomes where students analyze, synthesize, and apply key concepts, knowledge, and research methods in new contexts; develop effective oral, written, and visual communication skills; and cultivate empathy, independent reasoning, and decision making skills.

Deep learning and transformational growth is further fostered by combining studio assignments and class presentations with museum visits and multimedia resources including podcasts, websites and online social media applications. To create a classroom culture based on academic curiosity, I draw from a variety of literary and academic texts to augment my teaching and regularly give cross-disciplinary reading assignments in literature, poetry, science, history and journalism. Students are connected to contemporary practitioners through visiting artist programs, Skype sessions, workshops, and internships to prompt dialogue that reaches beyond the classroom and spurs professional development opportunities.

Carefully structured critical reflection intentionally connects students' creative work with course content, and is facilitated through ongoing conversations, critical writing assignments, and studio critique. Through these methods, students test the strengths and limitations of their work, integrate new experience against existing knowledge, and analyze their assumptions and beliefs in open, constructive dialogue.

Ultimately, the object of this dialogue is a creative exchange marked by the success John Henry Newman describes in The Idea of a University: a kind of higher learning that does not cherish "talent, genius, or knowledge, for [her] own sake, but for the sake of her children…with the object of training them to fill their respective posts in life better, and of making them more intelligent, capable, active members of society."1
1 Newman, John Henry. The Idea of a University. London: Longmans, Green, and Co., 1907.


......................................

University of Alabama at Birmingham ARS495 "Stories from the Line: Documenting Poverty" students listen as Magnum photographer

Matt Black

gives an artist lecture via Skype on his ongoing project, "The Geography of Poverty," November 9, 2015.

DIVERSITY STATEMENT

I can vividly recall the moment the photograph was pinned to the classroom critique wall: it featured an obese African American woman, dressed in a combination of animal print leggings and tattered neon top, holding two children on her hips and staring, deadpan, at the camera from a nondescript city street. The photograph had been made by a talented young student photographer for an assignment in the class, Stories from the Line: Documenting Poverty. The student was white and male. Those immediately critical of the picture were not. And what the photographer would soon see – through one of the most dynamic conversations I have had in the classroom – was how the photograph could be read in widely different ways. Certainly, the picture was well made. The dynamic color was arresting, and the gestures and composition invoked comparisons to Dorothea Lange's iconic 1936 photograph of Florence Owens Thompson, the "Migrant Mother." But it also solicited another historical comparison: the objectified, colonialist image of Sarah Baartman, known in 19th century London as the South African freakshow attraction, Hottentot Venus. Students made the argument that the photograph echoed the caricatures of Baartman, thereby validating racial typologies and reinforcing sexual primitivism. It was not the allusion the photographer hoped to make.

In what could have been a divisive argument between the students instead became a unique teaching moment. As I made effort to ensure each voice in the room was heard, the photographer was also given opportunity to defend his aesthetic decisions. As a result, both sides of the classroom came away with new understanding about the many nuances – and potential pitfalls – of photographic representation, especially regarding the history of exploitation of the black female body and the deeply problematic visual portrayals of colonial oppression and racial stereotyping.

Conversations such as these are integral to scholarly excellence and relevance, and as an educator my goal is to teach with a sensitivity to both the strengths and needs of a diverse student population while creating an environment that acknowledges, encourages, and celebrates differences. This is facilitated by equal access and support of each individual student – regardless of age, gender, sexual orientation, economic background, disability, political affiliation, or religious and cultural identity – and guided by an openness and active encouragement of each student's individual voice and experience. Yet a commitment to diversity requires more than sensitivity toward identity or positionality; it is grounded in establishing and maintaining mutual trust, requires faculty to act ethically and do what is right, and compels us to treat others with courtesy, integrity, and accountability.

Diversity also calls us as educators to forge new paths in critically deconstructing codified methodologies and outdated curriculum. To that end, I make effort to look beyond the established art historical canon that has too long privileged Western, white, male artists like myself. For each class lecture, I make sure there is equal representation of artworks made by a variety of artists who identify either as female, LGBTQIA, non-Western, or non-white. I also use visiting artist opportunities to diversify the voice in the classroom and employ community engaged coursework to foster empathy and understanding.

In a time of great division in the US and abroad, I believe academia has the responsibility of actively shifting our cultural dialogue towards greater equality and access while guiding students' learning through principles of commonality, community, and citizenship. With those responsibilities at the fore, we not only open our classroom to more dynamic conversations and transformational pedagogy, but we also help change the world.




......................................


COURSEWORK:
*developed course/wrote syllabus

UNIVERSITY OF SOUTH FLORIDA JUDY GENSHAFT HONORS COLLEGE, 2019–
Visiting Distinguished Professor
The Champion Image: Socially-Engaged Visual Storytelling*
The Compassionate Image: Socially-Engaged Visual Storytelling (taught in collaboration with Fostering a Compassionate City: Systems Thinking for Social Change & Compassionate Cities: An Emerging Social Development classes)*
The Art of Politics: Photography, Propaganda, and Politics*
Looking Beyond Florida Man and Sunsets: Florida and the South in Photographs*

UNIVERSITY OF ALABAMA AT BIRMINGHAM, 2013–18
Adjunct Faculty
BFA Exhibition
BA Capstone: Contemporary Art Practices
Special Topics: Camera-less*
Special Topics: Stories from the Line – Documenting Poverty (cross-listed with Department of History, Media Studies)*
Special Topics: Photography in the South*
Special Topics: Neighborhood Studies (cross-listed with Department of History)*
Intermediate Photography*
Experiential Photography*
Beginning Photography*
4-D Design Foundations*

UNIVERSITY OF ALABAMA, 2016
Master of Arts Graduate Thesis Committee
Student: Celestia Morgan

DUKE UNIVERSITY, 2015
Master of Fine Arts in Experimental & Documentary Arts Graduate Thesis Committee
Student: Aaron Canipe

CORCORAN SCHOOL OF THE ARTS + DESIGN, GEORGE WASHINGTON UNIVERSITY, 2007–13
Adjunct Faculty
Studio Photojournalism Core IV Senior Thesis*
Studio Fine Art Photography Core IV Senior Thesis
Studio Photojournalism Core III*
Studio Fine Art Photography Core III*
Light Studies & Optical Culture
Focus on Photojournalism Pre-college*

LAGRANGE COLLEGE, 2004–05
Adjunct Faculty
Documentary Photography
Basic Photography
2D Design
Western Humanities II*

TULANE UNIVERSITY, 2002–03
Instructor of Record
Foundations of Art: Photography*


......................................