in-progress
WHAT HAS BEEN WILL BE AGAIN
Do Good Fund artist-in-residence project, made with additional support from the Magnum Foundation, Wiregrass Museum of Art, Coleman Center for the Arts, and the Alabama State Council on the Arts. See the residency proposal, reading list, and travelogue here.

All things are wearisome,
more than one can say.
The eye never has enough of seeing,
nor the ear its fill of hearing.
What has been will be again,
what has been done will be done again;
there is nothing new under the sun.
Ecclesiastes 1:8-9, NIV
Alabama has known a deep and complex history – from Native American genocide to slavery and secession, and from the fight for civil rights to the championing of Trumpist ideology, the state has often stood at the nexus of American identity. In a time of pandemic and protest, economic uncertainty, and political polarization,
What Has Been Will Be Again
has led me across more than 10,000 miles and 40 counties to survey Alabama's cultural and physical landscape at this consequential moment. By tracing historic colonial routes including the Old Federal Road and Hernando de Soto's 1540 expedition, the project bears witness to generational racial, ecological, and economic injustice, reckoning a haunting yet tender look at my home state's troublesome past and tenuous present.
Working project map:
Blue lines: contested de Soto routes and Old Federal Road

Blue pins: sites of historical/cultural interest

Black: sites of indigenous habitation/removal

Purple: sites of civil rights history/racial violence

Red: superfund sites/toxic waste landfills/industrial pollution

Brown: national forests/state parks/nature preserves
.....................................

Select works:
Michael Farmer, 57, fashions a scarecrow next to his garden in Spring Hill, Ala. on Election Day. 2020.
Michael Farmer's family has lived in Spring Hill for generations, where the predominantly Black community has faced a history of racial violence and voter disenfranchisement. On November 3, 1874 a white mob attacked the Spring Hill polling station, destroying the ballot box, burning the ballots, and murdering the election supervisor's son. While 1,200 area Black residents voted in the 1874 election, only 10 cast ballots in 1876. Today, the population of Barbour County is nearly 50% Black, but white officials hold eight of 12 elected county positions. In 2016, the county had the highest voter purge rate in the United States. "I came up rough," Farmer says, as his father was a migrant worker that carried the family from Florida to New York season to season. Farmer is a lifelong Democrat and military veteran who served two tours overseas in Operation Desert Storm and Operation Iraqi Freedom. When asked what he hoped might come from the election, Farmer said, "I hope the young folks might think about what their ancestors came through to get where we are."
Ruins of Mt. Ida Plantation, Talladega County, Ala. 2020.
Destroyed by fire in 1956, the 1840 Greek Revival-style antebellum mansion was built by Walker Reynolds, a wealthy planter and promoter of Talladega County. The plantation was located near the site of Abihka, once one of four mother towns of the Muscogee Creek confederacy.
East Lake neighborhood, Birmingham, Ala. 2020.

Perine Well at Old Cahawba, Dallas County, Ala. 2020.

For millennia people have been drawn to the land situated at the confluence of the Cahaba and Alabama Rivers. The area now known as Old Cahawba was first occupied by large populations of Paleoindians; then from 1000–1500 CE the Mississippian period brought agriculture and mound builders. A walled city with palisades greeted Spanish explorers before Western disease killed thousands of indigenous people in the 16th and 17th centuries. The remaining native peoples coalesced into four tribal nations–Cherokee, Choctaw, Chickasaw, Muscogee (Creek)–but were wiped out and forced to move by a greater influx of Europeans. By the 19th century the dirt from the ancient mounds at Cahawba was used to build railroad beds, and the town became the first capital of Alabama. At the time it was dug in the 1850s, the Perine Well was the deepest known well in the world. At 700–900 feet deep, the well fed cool water through a system of pipes to "air condition" a 26-room brick mansion. Despite its prestige, Cahawba served as the state capital for just seven years and became a ghost town shortly after the Civil War, largely due to recurring floods. By the late 1800s a freedman purchased the old town site for $500, demolishing the buildings and sending the materials upriver to Selma, where the fight for civil rights would soon ensue.
Camp Hill, Ala. 2020.

Tuxedo Junction, Ensley neighborhood, Birmingham, Ala. 2020.

Sumter County, Ala. 2020.

It is said that sometime around 1868, a handsome man rode into the town of Livingston on a white horse. Immediately charming the townspeople, Stephen Renfroe would rise to prominence as a leading figure among disgruntled whites against their "carpetbagging Yankee oppressors." Despite his desertion from the Confederate Army and having murdered his own brother-in-law, Renfroe quickly became sheriff of Sumter County. As sheriff, he took over leadership of the local Ku Klux Klan and orchestrated the kidnappings and murders of local Republicans. While popular with local whites, Renfroe was known more for breaking the law than keeping it. Addison G. Smith, a lawyer and friend of Renfroe wrote, "It is well established that while he was sheriff he burned the clerk's office, robbed himself of money he had collected for other people, embezzled money, used trust funds, turned prisoners out of jail, committed an unprovoked assault with intent to murder, and was guilty of various thefts." Renfroe was arrested on the charge of being a KKK raider but was acquitted due to his overwhelming popularity in town. Following several more arrests, escapes from jail, and living on the lam for five years, Renfroe returned to Sumter County where he threatened to blackmail his former KKK affiliates by giving their names over to the federal government. His former accomplices had him arrested and brought to the Livingston jail. There, a mob of 20 men took Renfroe from his cell, marched him to the banks of the Sucarnoochee River, and hanged him from a chinaberry tree. Today, Sumter County is the poorest county in Alabama. The 1860 Census showed the following totals for Sumter County: Whites – 5,919; Enslaved Blacks – 18,091; and Freed Blacks – 25. The current total population of Sumter County is slightly less than the figure of 140 years ago, but the proportion of Black residents is almost exactly the same (75%). Joe Biden carried Sumter County in the 2020 presidential election with nearly 74% of the vote.
Camp Hill, Ala. 2020.

On July 15, 1931, a white mob raided a meeting of the Alabama Sharecroppers' Union held in a church in Camp Hill. A shootout occurred between the mob and predominantly-Black union members, killing one union member and injuring several more. In the days that followed at least 30 Black men were arrested while at least four others were lynched. While those who were arrested were eventually released without trial due to public and international pressure, the time in jail kept the farmers from raising a crop that year.
Migratory birds over the US Steel Pratt Convict Cemetery, Pratt City, Birmingham, Ala. 2020.

Between 1846 and 1928 convict leasing served to effectively prolong slavery throughout the southern states. Following Emancipation, southern state legislatures passed "Black Codes"–laws that subjected Black people to prosecution for minor offenses including loitering, vagrancy, or breaking curfew. As a result, the number of incarcerated Black people surged, with states leasing prisoners to private plantations and industries. The practice provided substantial income; in 1898, 73% of Alabama's entire annual state revenue came from convict leasing. Alabama was the last state to formally outlaw convict leasing in 1928, although it persisted in various forms until President Franklin D. Roosevelt abolished it in 1941.
Java, Birmingham, Ala. 2020.

Mural depicting the murder of George Floyd, Ensley neighborhood, Birmingham, Ala. 2020.
According to a 2020 investigation by Northeastern University, 123 Black people were killed by white police officers in Jefferson County between 1932–1968. In only two cases were officers charged for the killings. For 26 of the 36 years chronicled, the commissioner of public safety in Birmingham was Eugene "Bull" Connor, who infamously turned fire hoses and attack dogs on civil rights protesters in 1963.
Kevin, Dadeville, Ala. 2020.

Site of Margaret Murray Washington's school for formerly enslaved people, Tuskegee town square, Tuskegee, Ala. 2020.
In 1957 officials in Tuskegee gerrymandered the city limits in an effort to disenfranchise Black voters. In response, Black citizens organized a four-year boycott of white-owned businesses and with support of the NAACP presented a legal challenge to the law. Three years later the US Supreme Court ruled the state of Alabama had violated the 15th Amendment's guarantee of a citizen's right to vote, and the city's boundaries were returned to their original positions by 1961. During the four-year boycott more than two dozen white-owned businesses closed. Today, the majority of businesses around Tuskegee's city square sit empty. The town's Confederate monument, erected in 1906 by the Daughters of the Confederacy and located in the city square, has been covered with tarpaulins since June 2020 while city leaders seek to have it legally removed and relocated.
Blake, Irondale, Ala. 2020.

Glitter scattered on ruins of the former Alabama state capitol, Capitol Park, Tuscaloosa, Ala. 2020.

Yoholo-Micco, chieftan of the Upper Creek town of Eufala, is said to have addressed the Alabama Legislature in 1836 at the state capital in Tuscaloosa before departing the ancestral Muscogee homelands on the Trail of Tears. Yoholo-Micco's actual words are unknown, but the white, colonial writers of history have painted the Creek leader as one who accepted indigenous removal with an air of romantic resignation, going so far as to contrive his final words in a way to whitewash the genocide that had taken place over 300+ years' time. Yoholo-Micco's apocryphal address reads: "I come here, brothers, to see the great house of Alabama and the men who make laws and say farewell in brotherly kindness before I go to the far west, where my people are now going. In time gone by I have thought that the white men wanted to bring burden and ache of heart among my people in driving them from their homes and yoking them with laws they do not understand. But I have now become satisfied that they are not unfriendly toward us, but that they wish us well. In these lands of Alabama, which have belonged to my forefathers and where their bones lie buried, I see that the Indian fires are going out. Soon they will be cold. New fires are lighting in the west for us, they say, and we will go there. I do not believe our great Father means to harm his red children, but that he wishes us well. We leave behind our good will to the people of Alabama who build the great houses and to the men who make the laws. This is all I have to say."
Robert, Eclectic, Ala. 2020.

Miller Steam Plant, West Jefferson, Ala. 2020.

The Miller Steam Plant is an 800-acre coal-fired electrical generation facility operated by the Alabama Power Company. In 2017 the EPA cited Miller as the largest emitter of greenhouse gasses in the United States. More than 29 million tons of coal ash are stored in Miller's 321-acre unlined storage pit located behind an earthen dam along the Locust Fork of the Black Warrior River. In response to a 2015 EPA ruling on coal combustion residuals, Alabama Power plans to seal its ash pit using cap-in-place methods, despite the site's location upstream from major drinking water intakes that serve 200,000 people. © Jared Ragland. From the series
What Has Been Will Be Again
. Produced with support from the Magnum Foundation and The Do Good Fund.
Resolute Forest Products Coosa Pines paper mill, Childersburg, Ala. 2020.
The site of the Coosa Pines paper mill was once home to an important Creek chiefdom called Coosa, where Spanish conquistador Hernando de Soto visited and took slaves in 1540. Four hundred years later, the Alabama Army Munitions plant produced explosives like TNT at the site and secretly produced heavy water for the Manhattan Project. According to the EPA's 2015 Toxic Release Inventory, area industries release 1.5 million pounds of toxic chemicals into the Coosa River each year; one the largest emitters is the Coosa Pines paper mill, responsible for discharging high amounts of cancer causing chemicals and reproductive toxins.
Talladega, Ala. 2020.

Uniontown, Ala. 2020.

Uniontown is home to around 2,000 people, 88% of which are Black. The average annual household income is just over $30k, and 48% live in poverty. The city faces a multitude of environmental issues that affect the health and lives of its residents. At the time of a 2017 report by the Alabama State Nurses Association, Uniontown had only one doctor's office and no public transportation system, with the nearest hospitals located more than 30 miles away. Citizens reported incredibly high rates of heart disease, cancers, diabetes, Alzheimer's disease, as well as mental health issues and depression.
Taxidermy tableaux with Confederate flag, Jacksonville, Ala. 2020.

Cassie, Sayre, AL. 2020.

Payton, Cordova, Ala. 2020.

Wylam neighborhood, Birmingham, Ala. 2020.

Bellefonte Nuclear Generating Station, Hollywood, Ala. 2020.

The Bellefonte Nuclear Generating Station is an unfinished nuclear power plant operated by the Tennessee Valley Authority. A total of four nuclear reactors have been proposed for the site over a 40-year period at a cost of more than $4 billion, but no nuclear reactor nor electric generating plant was ever completed. While most construction was halted in 1988, by 2015 TVA determined that the Bellefonte's potential power output was unneeded and moved to auction the plant. A private developer–Nuclear Development LLC, led by Franklin L. Haney of Memphis, Tennessee–purchased Bellefonte for $111 million in 2016. With plans to complete two reactor units, Haney purportedly agreed to pay Trump lawyer Michael Cohen $10 million in exchange for obtaining federal funding for the project. According to the Chattanooga Times Free Press, Haney says he hired Cohen to pursue investment from a Qatari sovereign fund and that neither he nor Cohen sought to lobby Trump about Department of Energy loan guarantees. TVA pulled out of the sale agreement in 2018, citing failure by Haney to obtain regulatory approvals. Haney filed suit to force the completion of the sale; a trial is pending as of December 2020.
Uniontown, Ala. 2020.

In 2009, the Tennessee Valley Authority's Kingston Fossil Plant coal ash dike ruptured and released 5.4 million cubic yards of coal ash into the Emory River in Tennessee. As part of the clean-up process from July 2009 to December 2010, the Arrowhead landfill in Uniontown received more than 4 million tons of coal ash containing toxic materials and heavy metals such as arsenic, lead, mercury, and zinc. The landfill is located less than five miles from Uniontown and the nearest residence is approximately 250 feet from the site. Uniontown is also home to a cheese plant that sprays rotten buttermilk into a series of ponds and fields in town. City sewage water is also treated by spraying it onto fields to be absorbed by the soil. The soil in the area of the spray fields, however, contains high amounts of clay and absorbs water slowly, resulting in stagnant wastewater that sits on the fields before flowing into Freetown Creek and on to the Alabama River.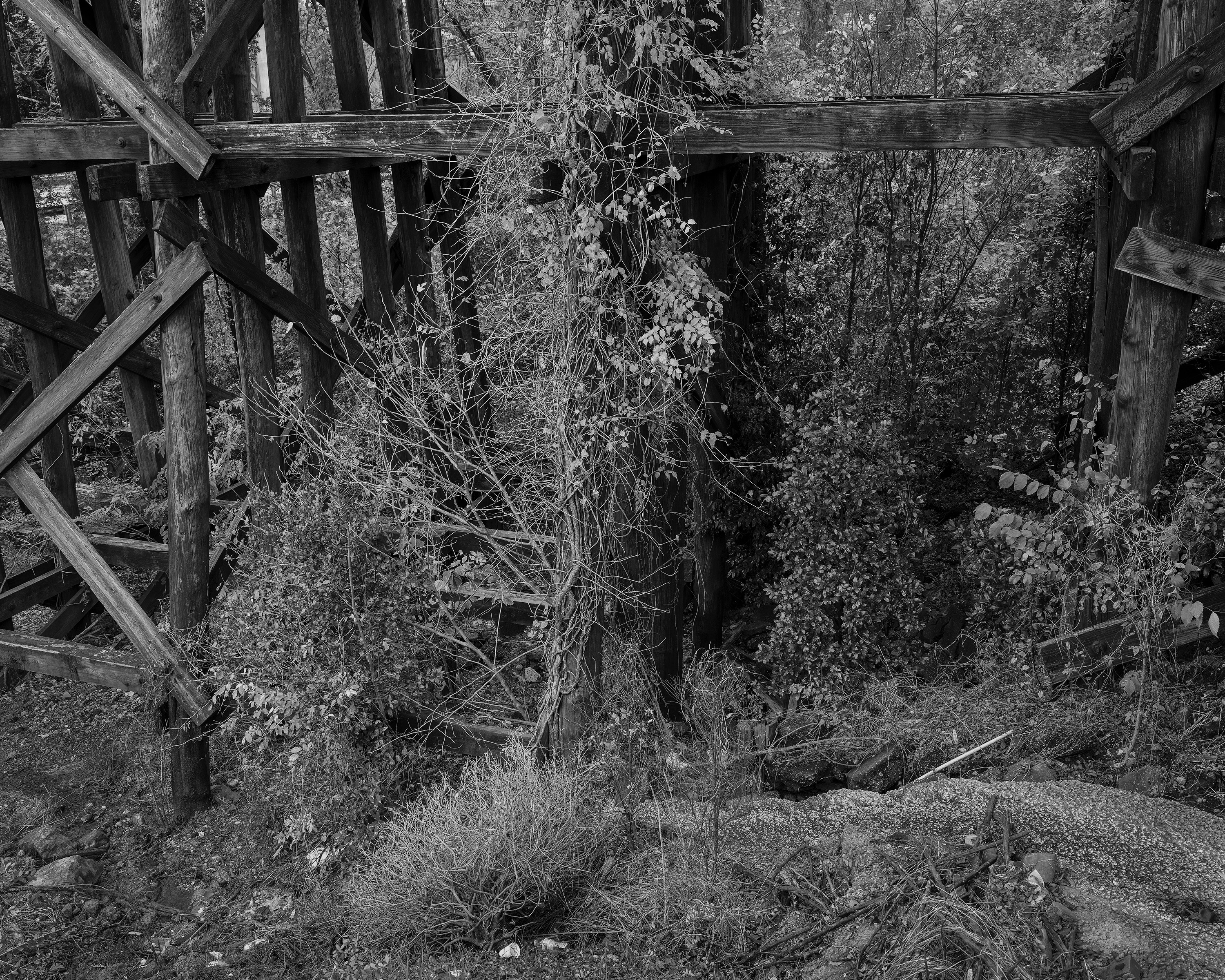 Locust Street bridge, site of the lynching of Bunk Richardson, Gadsden, Ala. 2020.

In July 1905, three Black men–Jack Hunter, Vance Gardner, and Will Johnson–were accused of rape and murder of a white woman in Gadsden. The three were arrested along with Bunk Richardson, who knew one of the suspects but was not involved with the crime. A mob gathered outside the Etowah County Jail and threatened to lynch the men, but was held back. Hunter, Gardner, and Johnson were tried and convicted. While Hunter and Gardner were executed, Alabama Governor William Jelks doubted Johnson's guilt and commuted his sentence to life in prison, sparking outrage. Although Richardson was never charged, a mob seized the innocent man and lynched him from the train trestle over the Coosa River. No one was ever charged for the lynching. Between 1877–1950 more than 4,000 Black people were lynched in the United States; researchers at the Equal Justice Initiative have documented more than 350 lynchings in Alabama in that same time period.
John, Talladega National Forest, Ala. 2020.

Sunshine turns soil in the Commons Community Workshop garden, Childersburg, Ala. 2020.

As a response to recent national division and the COVID-19 outbreak, Sunshine and her husband Rusty recently bought a home in Childersburg and created The Commons Community Workshop. Through their Fearless Communities Initiative they are building a community garden in a donated downtown lot, hosting trade days, and fostering relationships with their neighbors as a means of "celebrating solidarity and strength." The couple invited me to find them on Facebook where Sunny posts Initiative announcements, vocalizes her opposition to mask wearing and vaccines, and shares her beliefs about global child sex trafficking networks, the threat of Marxism, and the coming of the end times.
Wanda and Jerry unload Trump-themed fireworks, Carbon Hill, Ala. 2020.

"He's my president–I just love him," Wanda said as she went to kiss a box of "WE THE PEOPLE D.J. TRUMP" brand fireworks that guarantees "45 EPIC SHOTS." Originally established as a mining and railroad community in 1863 by the Galloway Coal Company, Carbon Hill's founders incorporated the town on February 14, 1891, nicknaming it "The Village of Love and Luck." However, just two weeks prior a group of 200 white coal miners on strike from the Carbon Hill Coal and Coke Co. devolved into a violent mob after hearing rumor their strike would lead to layoffs. Afraid their jobs would be given to Black citizens, the mob terrorized the town, prompting mayor John T. Anderson to telegraph the governor, writing, "There is a lawless mob here. Colored people are shot and driven from home. No arrest made. We need troops." In 2019 Carbon Hill mayor Mark Chambers published several inflammatory statements on Facebook, including a call to "kill out" the LGBTQIA community. Chambers' posts were later deleted, and he apologized. One year later Chambers aimed racist remarks at the Black Lives Matter movement in a Facebook comment that read in part, "When you put Black lives before all lives they can kiss my ass." Three days after publishing the comment Chambers deleted his remarks and resigned. As of 2011, there were approximately 30 churches in Carbon Hill for a population of just over 2,000 residents, of which 89% are white and 25% live below the poverty line. More than 83% of Walker County residents voted for Donald Trump in the 2020 election.
.....................................

Broad edit: